Here & There
Inhabiting Spatial Documents
with:
Uwe Brunner
Dominic Schwab
Cenk Güzelis
Stefan Maier
guests:
Paula Strunden

participants:
Dila Kirmizitoprak, Yannick Datzer, Lucia Herber
#Vienna Architecture Summer School 2022
#XR #volumetric-live-streaming #ubiquitous-media #spatial–recording #telepresence #worldbuilding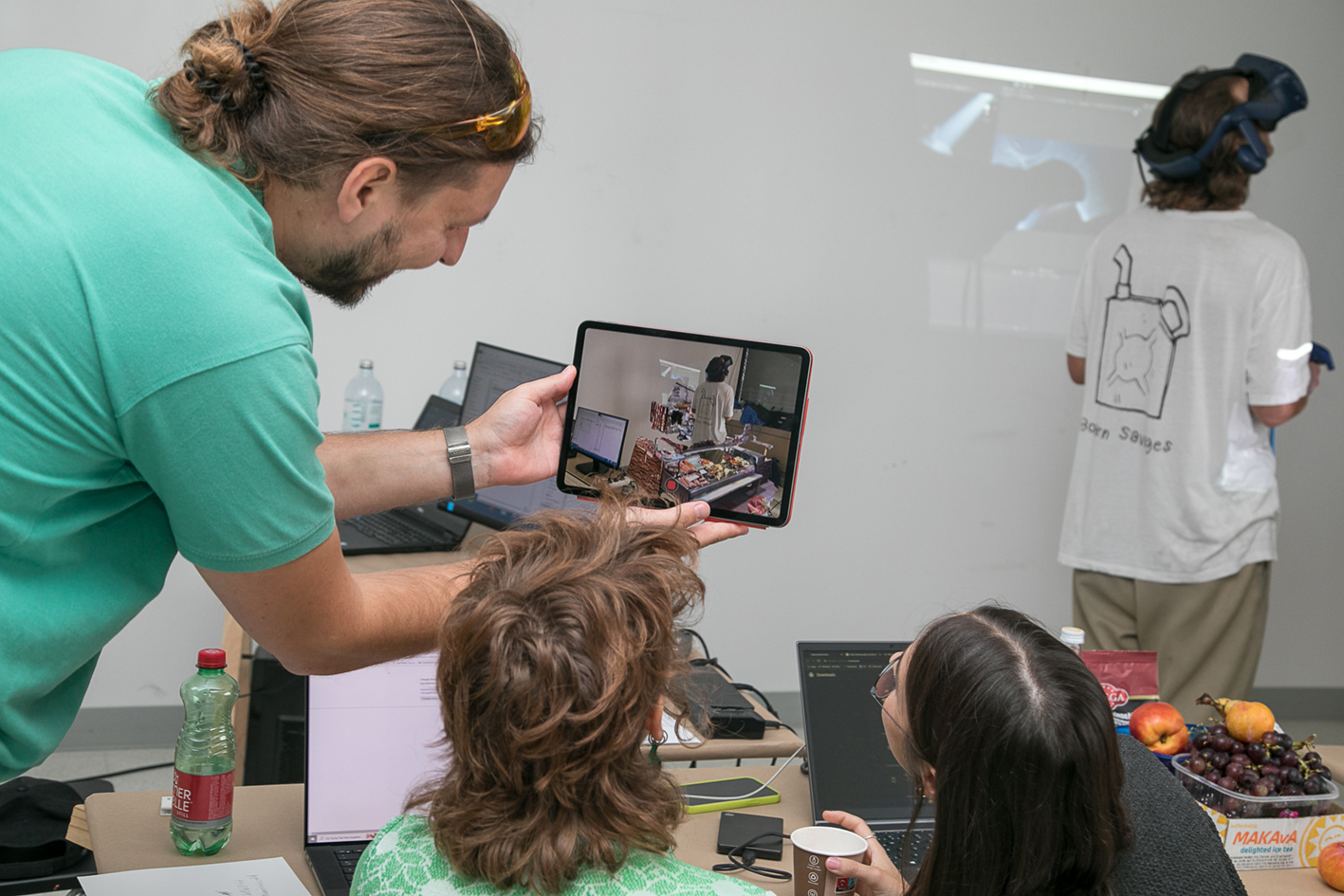 Here and There - Inhabiting Spatial Documents explores the architectural relevance of social media as a space-making practice.

As we slowly move from two-dimensional social media feeds to fully inhabitable social media spaces (VRChat, Mozilla Hubs and AltspaceVR etc.) we as architects and designers are being confronted with new paradigms of space-making that fundamentally change the way we are expected to conceive, construct and ultimately share spaces with a public. While this shift may break with established architectural conventions, the most persistent question probably remains unchanged: How do we create and share spaces that are meaningful?

Over the course of the workshop week, we will attempt to tackle this question in part by exploring a form of personal space-making that is closely related to the act of writing a diary or personal log. However, instead of using pen and paper, we will practice a form of diary-making in space and time through volumetric space capture technology and digital worldbuilding.

The workshop will be divided into two parts. The first part will explore the act of live capturing spatial footage through volumetric video and 3D scanning technology. Collaborative field trips in Vienna will help us build a spatio-temporal archive that will serve as the foundation for our space-making process.

In the second part, we will compose spatial diaries based on the collective four-dimensional archive and eventually share them by hosting different live events in a mixed reality setup for local and remote participants.


Uwe Brunner
is an architect, experience designer, teacher and a researcher. Since 2019 he has been a faculty member at the ./studio3, Institute for Experimental Architecture at the University of Innsbruck. He is currently pursuing a PhD with a research focus on the Essay, its affective and cognitive modalities, and its potential for space-making in virtual reality environments. In addition to architecture, his wider research draws from an array of different fields such as media art, film studies, game studies, and media philosophy.
www.uwebrunner.com


Dominic Schwab
is an architect, researcher and teacher, practising at the intersecton of architecture, visual culture and immersive media. Currently he is a faculty member at ./studio3, Institute for Experimental Architecture at the University of Innsbruck , where he is working on a dissertation entitled 'Spectral Spaces: Architecture in the Age of Plenty'.
www.dominicschwab.com
Cenk Güzelis
is an architect, researcher, and media artist based in Innsbruck, Austria, currently holding a position as a faculty member and PhD fellow at ./studio3, the Institute for Experimental Architecture, in Innsbruck University. His design projects, teaching, and research examine hybrid modes of spatiality and embodiment through performative new media installations revolving around online culture, ubiquitous computing, automated cognition, post-human critique, media studies, IoT, and spatial internet.
www.cenkgüzelis.com
Stefan Maier
is an architect, visual artist and researcher. He completed his architectural studies at the University of Innsbruck. His research interests focus on the interplay between virtual and physical environments and attempt to provoke a non-binary understanding. Currently he is teaching at ./studio3, Institute for Experimental Architecture at the University of Innsbruck as a visiting lecturer.